Enrol Today, Start by 5pm Next Business Day — Money-Back Guarantee
Our courses are aimed to help virtual assistants with the office productivity skills they need to perform their work but are available to everyone who wants to learn these software programs. When you enrol into our MYOB training courses, Microsoft Excel courses and WordPress website design and marketing course you'll get access very quickly so you can start learning straight away.
MYOB Courses
Once you've enrolled into the MYOB courses the choice is yours' to watch the online MYOB training videos as often as you like and go over them again and again. If you wish, you can also print the training workbooks and go through the step-by-step exercises to gain a deeper understanding of how to use the MYOB software in what we call a MYOB bookkeepers Induction.
Remember too, that you receive 12 month (or LIFETIME) access to the MYOB courses which means full access to all course resources, including all updates as they happen — during your membership period!
Our MYOB courses include Knowledge Reviews to test your new skills and provide you with the learning resources to review your answers. If  you get anything wrong, simply go over the learning material again and try the Knowledge Review again so you get it right the next time. There is no pressure!
Everything Is Included!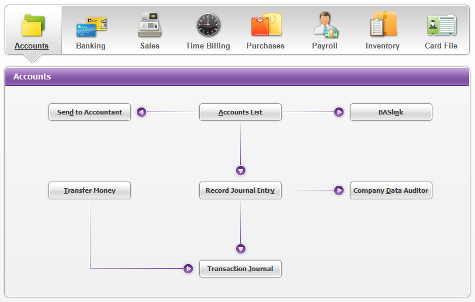 Unlike some of the larger MYOB training centre companies, our online MYOB courses includes everything. It is one price for all the MYOB courses (and all new MYOB courses we create). You receive access to:
MYOB Setup
MYOB Day-to-Day
MYOB Bank Reconciliation
MYOB Payroll
MYOB GST, BAS & Reporting
To see the full list of training video topics, visit the MYOB Training Course Outline. It also includes access to all versions of the MYOB software – when a new MYOB course is created it is added to the courses available and you get to complete all new and older versions.
How Do You Learn?
Our MYOB courses use a combination of training videos, workbooks with exercises and knowledge reviews to ensure you're absorbing the information as you go.
There are over 170 instructional training videos which progress from setup skills, including customising the various forms, to creating customer and supplier cards, entering day-to-day transactions including invoices, purchases, payments, credits and statements — to reconciling your bank account.
Click here to find out even more information about the course, or see the Frequently Asked Questions. For details on the videos you will receive and their duration, visit the MYOB Training Outline.
Remember: New training content is added regularly and as a student member you can view the new content and participate in the new knowledge reviews at no charge — for the rest of your working life.
"The videos are concise, short enough in length to absorb the info, and all aspects are clearly explained."
— Samantha Galbin
["I want to start my own business."]
Do you want to hear what other happy customers are saying about our online MYOB training course? Or maybe you want to do a quick quiz to see how much you know already?
To find out what the online MYOB course costs and enrol, simply click here.
MYOB Online Training Courses
Creating a new company, new company accounting info, accounts list and filename, data entry & record selection options, contact log, to do list, help, description of accounts list, creating and deleting accounts, entering opening balances
Starts: 01/05/2015 08:30 am
Ends: 12/04/2015
Duration: 23 hours:
Microsoft Excel Online Course
Open and Understand Spreadsheets, Creating and Editing Spreadsheets, Formulas, functions and formatting, Viewing and printing, Charts & Graphs, Intermediate Functions and cell referencing, Databases, filter/sort, named ranges, Pivot tables, 3D formulas, Advanced Formulas and protection, Goal Seek, data consolidation and Solver
Starts: 01/05/2015 08:30 am
Ends: 12/04/2015
Duration:
Small Business Management Courses
Originate and Develop Concepts, Business Planning, Establish Legal and Risk Management, Intellectual Property and General Law, Researching the Market, Plan Small Business Finances, Marketing Action Plan, Undertake Marketing Activities, Monitor and Manage Small Business Operations, Report on Financial Activities
Starts: 01/05/2015 08:30 am
Ends: 12/04/2015
Duration: 23 hours: